UPDATE: In a presentation delivered to the Burlington City Council at their meeting this past Monday, the developers behind the Downtown Burlington CityPlace project unveiled their latest redesign concept. The redesigned proposal keeps intact the original concept of mixed-use space but reduces the number of stories on each of the two towers from fourteen to ten. The updated concept would also make use of the current remnants of the Burlington Town Center Mall in addition to the building that used to contain Macy's.
Even with the reduced height, the tower on the Cherry Street side is still expected to contain 280 to 300 apartments, with 20% of the units qualifying as "affordable" as per Burlington's inclusionary zoning ordinance. At the other end, a 175-room hotel will occupy the Bank Street side of the property with retail space filling the first floor of each building. Additionally, the new plans also call for an "adequate" number of parking spaces be located both in between and below the two tower structures (Seven Days, CityPlace Burlington Developers Unveil Scaled-Down Proposal, 2019).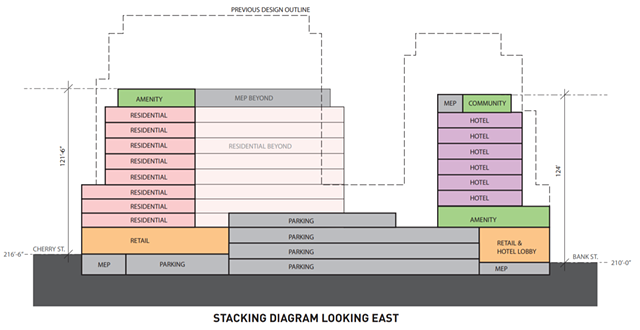 Image Courtesy of the City of Burlington
Mayor Miro Weinberger addressed the new plan at the Burlington City Council meeting on Monday saying, "What you've laid out tonight represents the potential of achieving all the major goals the city laid out as we sat down to this process years ago," listing housing and jobs among the benefits. "This represents a step in the right direction toward fixing a part of the downtown that has long been problematic, but we certainly [have] a long way to go" (City of Burlington, Press Releases, 2019).
For more information on this topic or other stories that impact Burlington, the surrounding communities and its residents; give us a call at [802] 846-8800 or email us at info@LipkinAudette.com.